Even relatively minor excavation activities, like landscaping or fencing, can damage a pipeline. In fact, most injuries and serious damage occur when a third party works within a pipeline or utility right-of-way. To help prevent accidents, the law requires you to contact your state One-Call Center before you dig. Call 811. It's free!
Call 811 at least three days before doing any of the following: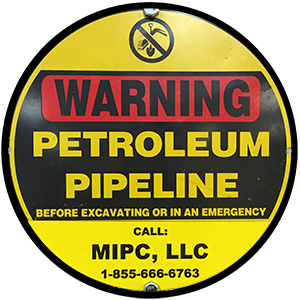 Blasting
Construction
Digging
Drilling
Excavating
Farming
Fencing
Landscaping
What to look for before digging
Most pipelines are underground, and burial depth varies. Whether the pipeline is buried or above ground, the pipeline right-of-way is clearly identified by pipeline markers along the route. These markers identify the approximate — NOT EXACT — location of the pipeline. The marker shows MIPC company information, type of product transported and emergency contact information.
What to expect when you call
Most states, including Pennsylvania and New Jersey, require that you call the One-Call Center at least three days in advance. This allows operates to mark their pipelines and utilities at your proposed digging site. In addition, MIPC may require a company representative to authorize and be present for any excavation within our pipeline right-of-way.